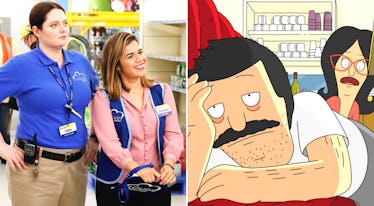 7 Heartfelt Working-Class Sitcoms You Can Watch Instead Of The 'Roseanne' Reboot
NBC, Fox
By now, you have pretty much definitely already heard the news that ABC has canceled its reboot of Roseanne. Although the show's star and namesake Roseanne Barr has been tweeting racist comments and political conspiracy theories for some time now, many fans still held the sitcom up as an exceptional depiction of a working-class family in middle America. It may have stood out back when it was originally airing, but now, there are plenty of wonderful working-class sitcoms you can watch instead of Roseanne. Don't think that just because the Roseanne reboot got scrapped, you won't see a working-class family on television. These are the shows you should try instead of Roseanne.
1. Superstore
Not only is NBC's exploration into the lives of a diverse group of Wal-Ma... *ahem* I mean Cloud 9 workers full of constant, whip-smart jokes, but it also tackles complex issues like immigration and surrogacy. While many other network sitcoms depict families that are effortlessly wealthy (think Modern Family or Black-ish), Superstore's cast of characters are all clearly scraping by on their big-box store salaries.
2. One Day at a Time
Probably the best answer to Roseanne in terms of genre, Netflix's One Day at a Time reboot series has gotten near unanimous praise from critics throughout its first two seasons for its heartwarming depiction of a bickering but loving working-class family. The Alvarez family lives in a small apartment, and they struggle with PTSD, sexuality, and racial identity, among other things.
3. Bob's Burgers
Don't think that just because Bob's Burgers is animated that it's for kids. The long-running Fox sitcom probably does not get the recognition that it really deserves for creating an endlessly hilarious working-class family that also has a real heart at its center. Linda's puns and Tina's cringe-worthy awkwardness provide absurdist laughs, but at the end of the day, viewers really do find themselves rooting for the Belchers to succeed, especially since their burger business is constantly on the brink of failure.
4. SMILF
Although it's billed as a comedy series, SMILF has much more of a dramatic edge to it than anything else on this list, so much so that it may not really qualify as a "sitcom" per se. But the new Showtime series really does carry some of the feel of Roseanne's earlier seasons. Frankie Shaw stars as a single mom who manages to scrape by as a tutor in Boston. The series depicts how difficult it can be to have to juggle a job, parenting, and trying to follow your own dreams as an impoverished single mother.
5. Fresh Off the Boat
Bob's Burgers isn't the only sitcom that centers on a family restaurant. Roseanne's one-time ABC neighbor Fresh Off the Boat also invites viewers into the lives of a struggling family, who moved to Orlando, Florida in the mid-90s to open a cowboy-themes restaurant. Many of the storylines involve the Huang family's iffy finances, with mom Jessica keeping a tight grip on the pursestrings and son Eddie longing to project a life of luxury like his favorite rappers.
6. Schitt's Creek
OK, so the Rose family starts things off as far from working class as you can get, but after losing all of their money, the spoiled family is forced to learn what life in small-town America is really like. The CBC series (don't worry, it's also streaming on Netflix) is packed with jokes and has developed something of a cult following, with its fifth season expected to debut in early 2019.
7. The Middle
I saved this one for last because, unfortunately, The Middle has just come to an end after nine seasons on ABC. While it was on the air, though, the Heck family really carried the torch from Roseanne's first run, as a lower middle-class family living in Indiana. And good news — although The Middle is over, ABC is reportedly in the process of developing a spinoff series centered on Sue Heck, so you will have that to watch when it premieres.