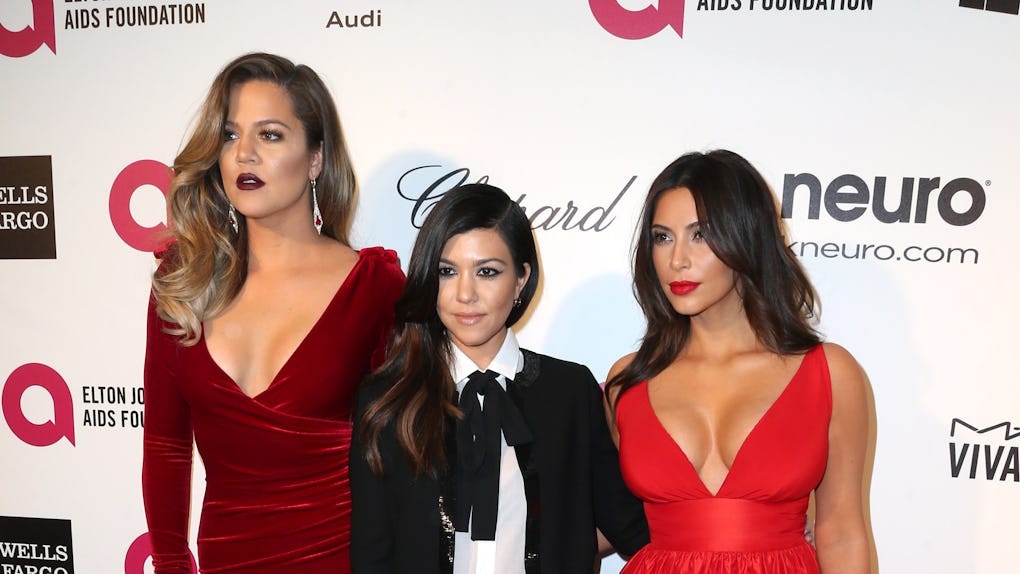 Frederick M. Brown/Getty Images Entertainment/Getty Images
7 Gifts For Kardashian Fans That Are Perfect For Kristmas
Hang those stockings, break out the garland, and get that mistletoe above your doorway (because someone cute has to walk through your front door at one point or another, so take full advantage of the excuse): the holiday season is officially upon us! And with Christmas being just around the corner, now is the perfect time to shop for all those important people in your life, because, let's face it, you definitely slept through Black Friday. And Cyber Monday. If you're like me, you're wondering how you can buy presents for your besties that show them just how much you truly love them and understand their wants and needs, which is anything and everything Kardashian related, obviously. So, how are you going to find the perfect gifts for Kardashian fans that will be the highlight of their Kristmas?
Well, duh, that's what I'm here for.
You didn't think I'd let you leave this post without giving you *THE* ultimate list of Kardashian-inspired goodies, did you? That would make me a holiday grinch, and believe you me, I am the anti-grinch. I'm the kind of girl who starts listening to Christmas music before Thanksgiving Day. Yes, I am one of those people and I don't care who knows it!
HOLIDAY CHEER FOR ALL!
Without further adieu, I give you the ultimate Kristmas wishlist:
1. For fans of the entire Kardashian-Jenner family:
Keeping Up With The Kardashians phone case, $36, Society 6
Because who wouldn't want to see Kris, Kim, Khloé, and the whole gang every time they take an on-point selfie? Appreciating all of your favorite ladies in monochrome glory while also keeping your phone super safe? Win-win.
2. For friends who double-tap every photo of the Kardashian kids:
North and Penelope tumbler, $11, Etsy
It's pretty obvious that the Kardashian babies have a fan following of their own. North and Saint? TOO CUTE. Mason, Penelope and Reign? Stop it right now with all that sweetness! Show your friends how much you mean to them with this tumbler that speaks volumes about your friendship. Besides, the Kardashian kids won't know there's vodka mixed in with that orange juice.
3. For anyone who declares they are #TeamKim over any other Kardashian:
More Kim Than Kylie Tee, $35, Nordstrom Rack
It's not blasphemy if you don't love all the Kardashians, and you should feel proud to represent whichever sibling is your spirit animal. Wearing this shirt will show the world that you think every little thing Kim K does is magic.
4. For those who love Scott Disick and his infinite pranking capabilities:
Todd Kraines mug, $15, Redbubble
Are you even a Kardashian fan if you don't know who Todd Kraines is? Anyone walking around with this mug is clearly ~in the know~ about every part of Keeping Up With The Kardashians, including Lord Disick himself:
Honestly, the episode of Scott impersonating Todd Kraines never gets old.
5. For those who want to support the Kardashian empire:
Roses Roses Candle, $20, Dash
While it doesn't seem that any of the Kardashians are struggling financially, there's no shame in buying Dash products to help contribute to their growing empire. You want the Kardashian babies to have a college fund, right? RIGHT? Shut up and take my money, Dash.
6. For anyone prone to Kardashian-level freak-outs:
Dropped a wine glass on the floor? Love-tapped the parked car behind you? Lost a freaking diamond earring in the ocean? Keep your self calm, cool, and caffeinated with this mug, that will show the world to basically back the F off until you've finished at least half a cup.
But seriously, keep your diamond studs at home if you're going to go diving into deep waters. This has been your PSA. Don't say we didn't warn you.
7. For the friend who wants to be mistaken for a Kardashian:
Marissa One Piece, $132, Revolve
Do you — or does someone you know — want to channel your inner Kardashian? Who are we kidding, of course you do. When in Rome, do what the Romans do. And when in Calabasas, do what the Kardashians do, and that means one-pieces! Look fly as hell by the pool (it can be blow-up, no judgement here) or wherever you damn please and flaunt this number. Just add some Kylie lip gloss, oversized sunglasses, and call it a day.
If all else fails, just remember that there's always the gift of wine:
Cheers, y'all, and happy shopping!