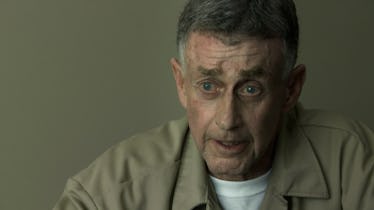 7 Facts About 'The Staircase' All True-Crime Docuseries Fans Need To Read
Netflix
There's a new true crime craze sweeping the nation — and no, it's not another installment of Serial. Netflix's newest true crime docuseries, The Staircase, explores the mysterious death of Kathleen Peterson and the subsequent murder trial of her husband, Michael Peterson, and it has everything fans of the genre have come to expect. If you've already binged your way through all 13 episodes on Netflix, you likely have a few questions, and that's where these facts about The Staircase come in. Get ready to have all your questions about The Staircase answered — and then some.
The Peterson case revolves around one very important question: Did Kathleen accidentally fall down the stairs and bleed to death, as Peterson's legal team argues, or was she brutally attacked? Michael Peterson, Kathleen's husband, pled not guilty to the December 2001 homicide, but a Durham, North Carolina jury charged him with first-degree murder in October 2003, and he has maintained his innocence ever since his conviction.
Over the last 17 years, the case has taken a few strange turns, and in 2017, it was resolved once and for all when Peterson entered an Alford plea (a deal in which someone maintains their innocence, but acknowledges that the prosecution has enough evidence to convict them) for the charge of voluntary manslaughter. After a decade in prison, Peterson was finally free.
The Staircase follows Peterson throughout this entire process — from his initial indictment in 2001 to his Alford plea in 2017 — but the docuseries is just the beginning. If you're really into The Staircase, here are seven crucial facts you need to know.