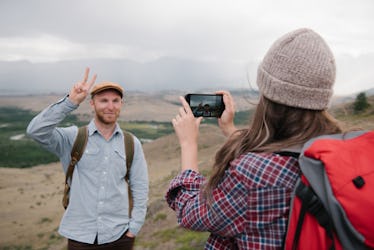 7 Easy Getaways For One-Year Anniversaries That Are Sure To Solidify Your Connection
If you and your bae are looking for a fun way to celebrate a one-year anniversary, treating yourselves to a getaway is a fantastic opportunity to create some romantic memories. Most importantly, you should both realize that in today's dating climate, making it to the one-year mark is most definitely an accomplishment worth celebrating. Even if you only have a few days (or a weekend) to celebrate, there are a ton of exciting places you can visit. Easy getaways for one-year anniversaries don't have to involve anything too elaborate. Something as relaxed as a staycation can be just as amazing as a pricier destination — it all depends on what works best for you and your bae.
The main goal of the trip is simple: taking some time away from all of the distractions of everyday life to focus on each other. If unplugging from the rat race is particularly hard for either one of you, then it might be a good idea to choose a place or activity in nature (maybe even away from wifi) so you can really tune-in to one another. If a city break sounds more your style, then with a little research, it's totally possible to find cheap flights to popular cities if you book far enough in advance. Below, some ideas that are sure to set a romantic tone.