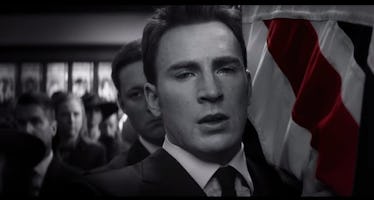 7 Easter Eggs In The 'Avengers: Endgame' Trailer That Will Make Your Brain Explode
Marvel
The idea of the "easter egg," the hidden reference in a movie or video game for fans to notice and feel like they are part of in-crowd, did not originate with the Marvel films. However, the Marvel Cinematic Universe is uniquely positioned to take advantage of the concept, as the franchise not only pulls from its history of 20+ films but also decades of comic books and TV shows as well. But the easter eggs in the Avengers: Endgame trailer mainly stick to the movies, and with good reason.
Avengers: Endgame is the cumulation not just of the adventure started in Infinity War, but of 22 films which began back in 2008. By tying in those early movies to the new story, the MCU is pulling everything full circle.
Here's the synopsis:
Thanos snapped his fingers in Avengers: Infinity War and half the life in the universe instantly dissolved. Now a ragged group of surviving warriors, including Captain America, Black Widow, Iron Man, Thor, and the Hulk works to counteract the Mad Titan's genocidal action. Since our heroes couldn't stop Thanos the first time, what makes them think they can win in a rematch? The answer may be in overwhelming power, thanks to Captain Marvel, or in the tiniest spaces between atoms accessible to Ant-Man. Avengers: Endgame will rewrite the Marvel Cinematic Universe as we know it. When it's all over, nothing will be the same.
Let's run down the biggest easter eggs.