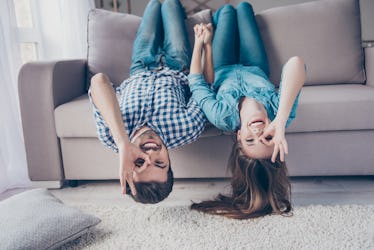 7 Cute Dorm Room Date Ideas That Are Perfect For Cozy Sweater Weather
With everything we have to juggle in college, including financial survival, it can be a bit of challenge trying to put together an awesome date. Many of us happen to be pretty broke for the majority of those four years, but we don't want to deprive ourselves of dating. Coming up with dorm room date ideas for the fall is a perfect idea, while the cozy elements are unfolding around you and the opportunities are waiting for you indoors.
You're already in your dorm room the majority of the time, anyway. Having a date in there will make you feel incredibly comfortable because you're in your own space. You'll feel so relaxed that those first date jitters will subside, and you'll shine like the gem that you are.
The intimate setting, along with you being in your comfort zone, is certainly a combo for a killer date. In college, the little things (like eating three times a day) are seen as cherished accomplishments. So, a dorm room date is just as valuable as a date that's out and about. If your roommates are cool with it, have them tag along with their dates, or organize a plan around the time they're gone for the weekend. Regardless of the circumstances, there are some dorm room dates that'll make you forget about going out, and keep you snuggled up indoors.