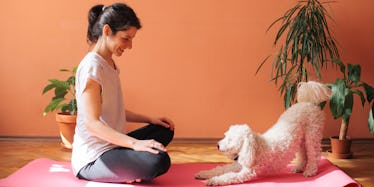 7 Adorable Pups Doing Yoga That'll Put Your Downward Dog Skills To Shame
As a self-proclaimed, dog-obsessed yoga enthusiast, when I went to goat yoga the other week (yes, it's a thing), I couldn't help but high-key wish the fuzzy farm animals would be replaced with adorable little doggos. Like, picture being in downward facing dog, surrounded by literal puppies — goals times 10, amirite? So, I decided to look up some photos of dogs doing yoga to satisfy my fantasy of incorporating some seriously adorable pups into all of my yoga flows, and I was not disappointed.
TBH, seeing a bunch of photos of puppies whipping out some advanced asanas made me wonder, what can't dogs do?
Apparently, besides being cute as hell 24/7, they've also been known to pull some seriously wild sh*t, like this puppy flying a damn airplane, or this doggo doing a complex math equation. Seriously, hit me up if you can look me in the eyes and tell me that dogs aren't the best creatures to ever grace this planet. I'll wait.
But, in the mean time, here are seven dogs that will totally blow your mind with their impressive yoga skills. You may or may not be casually embarrassed that a German Shepherd is better at a vinyasa flow than you are. But you'll most likely just say "awww" for three hours and set these pics to use as your cover photo on every social media outlet you use.