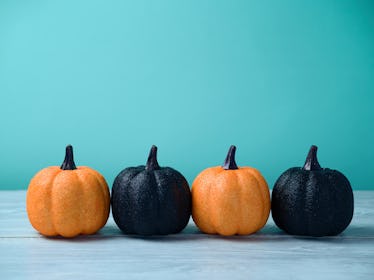 7 Adorably Festive DIY Pumpkin Ideas For Your First Place With Bae
maglara/Fotolia
With Halloween just around the corner, it's time to break out the decorations. It can be a little tricky to get festive if you're in a small home or a little tight on spending money as many young couples are, but there's always hope. You can spice up your space with some spooky DIY pumpkin ideas if all else fails.
During the harvest months, pumpkins are everywhere you look. You can pick a few up at the grocery store, at a farmer's market, or you can have a date night at the pumpkin patch to find your gourd decor. The fun thing about DIY projects is that you get to enjoy the whole process, and that includes picking up whatever you need.
Making the project is the second half of the fun. DIY's can be tricky, but since there are two of you, you'll be able to handle it like it's nothing. Before you know it, your home will look as spooky and festive as ever, and you'll barely have to spend any money to make it that way.
Pinterest is a DIY lover's paradise, especially around the holidays. Adorable Halloween ideas are everywhere you look, so it's definitely worth taking a look around online. For now, these super fun pumpkin DIYs will keep you and bae busy while you get ready for the spookiest time of the year.
1. Pumpkin Vase
This adorable project is super easy, but the finished result will look like it took hours to put together. You can use this vase as home decor or as a stunning autumn centerpiece for your table. Maybe it's even worth keeping this idea in mind for your Thanksgiving table this year.
2. Pumpkin Candles
For a sweet aroma throughout the home, you can make yourself some cinnamon pumpkin candles. Cinnamon sticks are used for the scent, so you know everything you'll smell is all natural and safe. The pumpkins make adorable candles that you can use as decor anywhere in the house.
3. An Adorable Cactus
If you're more of a spring or summer type of couple, a pumpkin may not fit in with the other decor in your home. Luckily for you, you can get in on the pumpkin action without jeopardizing your summery theme. A little paint and some creativity is all you need to turn a pumpkin into a cactus, like some strange little fairy tale.
4. A Pumpkin Cloche
A cloche is that fancy little lid thing that waiters always remove to do the dramatic reveal of your dinner at classy restaurants, in case you (like myself) didn't know. You can make your own out of a pumpkin top, but you may want to try this DIY out with a fake pumpkin rather than a real one. Otherwise, your food might get kind of gross.
5. Hand Painted Centerpiece
If you or your boo are skilled in any sort of artistic ability, you can definitely use that to your advantage. A hand painted centerpiece will impress all of your guests (including your mom), so it's worth taking the extra time to make. Everyone will think you're the next Picasso.
6. Miniature Pumpkin Garland
For this fun DIY, you'll need to carefully select your pumpkins. A trip to a farmer's market or pumpkin patch might be your best bet if you want the greatest selection of little pumpkins and gourds. This will definitely look great if your home has a natural or rustic feel to it.
7. Pumpkin Placecards
When you're out buying your tiny pumpkins for your gourd garland, you can buy some even tinier pumpkins for these adorable place cards. Each guest gets their own pumpkin at the end of the night, which technically makes them a favor or gift as well as decor. Anyone who visits will definitely have something to remember your creativity by.
Check out the entire Gen Why series and othervideos on Facebook and the Bustle app across Apple TV, Roku, and Amazon FireTV.