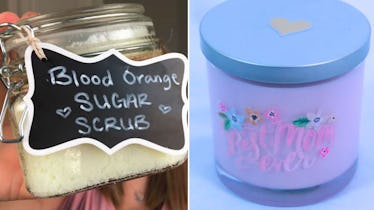 These DIY Mother's Day Gift Ideas Won't Break The Bank & Mom Will Love Them
Moms are the real MVPs. If you're lucky enough to call your mom your best friend, you likely don't know what you'd do without her amazing influence in your life. My mom has taught me everything I know, and for that, I'm eternally grateful. That's why coming up with a creative way to show Mom just how much you love her on Mother's Day can be a struggle. You want the day to be absolutely perfect, right down to your gift. Going the DIY route is always a great choice, and Mom will know you put so much thought and love into making her present. If you need a little bit of inspiration, I came up with a list of DIY Mother's Day gifts that'll put a smile on Mom's face.
A DIY gift can be simple, but it might mean a whole lot more to Mom than something expensive you bought at the store. Your mom will love the extra attention to detail you put into making this present just for her. Plus, you get to break out your crafting skills, and let's be honest, many of us love a good DIY project.
Follow along with any of these seven DIY YouTube tutorials, and pretty soon you'll have the perfect Mother's Day gift that not only will Mom love, but it also won't break your bank.