7 DIY 'Game Of Thrones' Gifts That Won't Break Your (Iron) Bank
HBO
Winter is not here yet, but Christmas is coming. With less than a month until Christmas, and even less time until Hanukkah, ordering gifts online to have them shipped in time may no longer be an option. Besides, who's got the budget to buy things? That's why the Old Gods invented Do-It-Yourselfing. We've rounded up some of the best DIY Game Of Thrones gift ideas for you to try your hand at this season.
Since budget-conscious is the point of most Do-It-Yourself projects, we tried to keep this list on the cheaper side of crafting. We're quite aware than some try their hands at DIY and find that by the time they're done, they've spent more money and energy than was worth what savings there is.
There are food gifts for the eating, and simple cheap crafts for the making. Even our paper craft is the kind of thing you can grab some computer paper from work to take home to make. All our knitting patterns are free, though sadly, yarn is not. But if you're like some of us more hardcore knitting fiends, you've probably got a stash already you can work from.
All Men Must DIY. Let's get to it.
Westeros-Themed Snacks
One of the most fun DIY gifts is to make edible gifts, or food-centric items, to eat food out of. And what better food to eat when watching Tyrion and Cersei face off in the Hand's Chambers than popcorn?
Perhaps it's not appropriate for the Red Wedding, but that's what the Ned's Head pops are for. All these party ideas in the above video can be easily re-purposed for gift giving season.
Character Name Coasters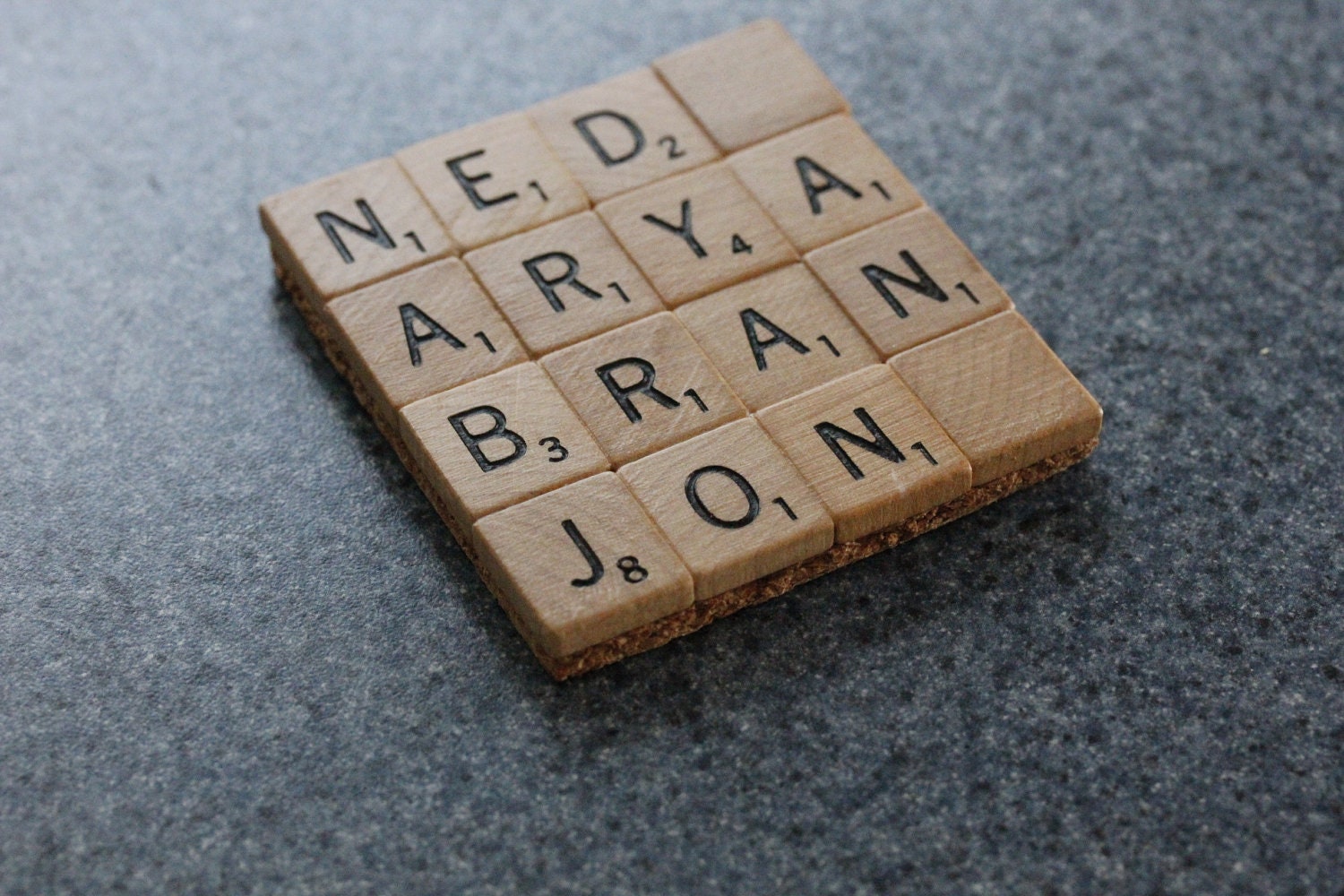 Scrabble coasters are a great easy DIY project. you just need a bit of corkboard, glue, and a bunch of old scrabble sets. Game of Thrones lends itself especially well to this type of themed coaster, because the names are so short. (Or if they are long, like Daenerys or Catelyn, they get shortened, to Dany or Cat.)
Extend to a 5x5 square coaster to fit Sansa and Cersei. Full instructions here.
Iron Throne To Charge Your Phone
What is king of our world in the second decade of the 21st Century? No, it's not our leaders, nor is it anyone with royal monikers in front of their name. (Sorry, Meghan Markle.) The thing that rules all of our lives, and should sit up the Iron Thrones.... the smartphone.
This final product looks complex and hard to make, but we promise that this little charging stand for your phone is actually surprisingly simple. It helped that the DIYer who invented it did a step-by-step Imgur series for those who wish to have their phone rest regally yet uncomfortably until at 100%.
House Snowflakes
A perennial favorite for the DIY crafter crowd who wants to work in paper. These snowflakes look just like any other paper decoration for the holiday season... until you take a closer look. The only one that's obvious at first glance is House Tyrell, but with any luck, they'll just think you're really into the War of the Roses.
You can rep Team Targ right in front of a house full of Lannisters, and as long as they're drinking, they might not even notice. Free paper patterns for printing here.
Dragon Egg Cookies
Back to the food items. These dragon egg cookies are stunners, and would look great gracing any holiday table, or office party, if not wrapped up in a Tupperware and presented to your own special Mother of Dragons during the gift-giving exchange. Even better, you can save the recipe and use them again at Easter!
The cookies themselves are just sugar cookies stamped out into ovals, like any other Christmas cookie. Getting the scalloped frosting and the 3D decor is the harder stuff, but Semi-Sweet had a great tutorial for those who want to try their hand at it.
Dothraki Christmas Lights
Nearly all of the decor for the Dothraki hordes on Game of Thrones are cribbed from a combination of Moorish and Moroccan styles. So, when it comes to creating decorations for the nomads of the Great Grass Sea in your life, we break out the Moroccan lamp tutorials.
The smaller the jar you use, the easier it is to turn these gorgeous creations into decor that can adorn any Christmas tree. But then again, most Dothraki hordes prefer warmer climates, where hanging out in the backyard in 70-degree weather is how you do the gift exchange.
Knitting Sigils
For the yarn crafters out there, there are a wealth of patterns and designs for those who want to knit up items for their friends to rep Team Stark and Team Targ this winter. (Is anyone really repping House Lannister anymore? Please, that's so 298 AC.)
For charts of all the different house sigils, Knitting For Nerds has you covered. They've also got everything from simple fingerless gloves for you to stitch them onto, to the most complex shawl that even an Aes Sedai would love. As for the Stark scarf pictured above, that's available on Ravelry as a free pdf pattern download.
There's even a blanket, but with less than 30 days until Xmas, that one might be better to start now with the promise to finish before Season 8 arrives.