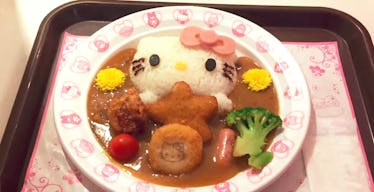 7 Cutest Foods At Hello Kitty World In Tokyo We Want To Try ASAP
Never underestimate the power that food can have on your decision of whether or not to visit a place. The sites are great, and an obvious draw as well, but you know you're going to be talking about the food when someone asks you how your trip was. It's not just about how its taste, either, because if you watch any cooking show, you know presentation matters just as much. Japan is on the top of my list of places to visit, because they put an emphasis on cuteness in their food, most especially these cutest foods at Hello Kitty World in Tokyo.
We absolutely adore Hello Kitty, so it just makes sense that we would want to travel to Hello Kitty World. You'll seriously be swooning after looking at these seven adorable foods at Sanrio Puroland in Tokyo. It's an indoor amusement park dedicated to all of your favorite Sanrio characters like Hello Kitty, My Melody, and Gudetama. The rides and character meet and greets are fun, but you'll be planning most of your day around these tasty treats available for you at the park. They're almost too cute to eat, but you can always just snap a picture to remember how cute it was, because we know you're dying to dive in and eat it.