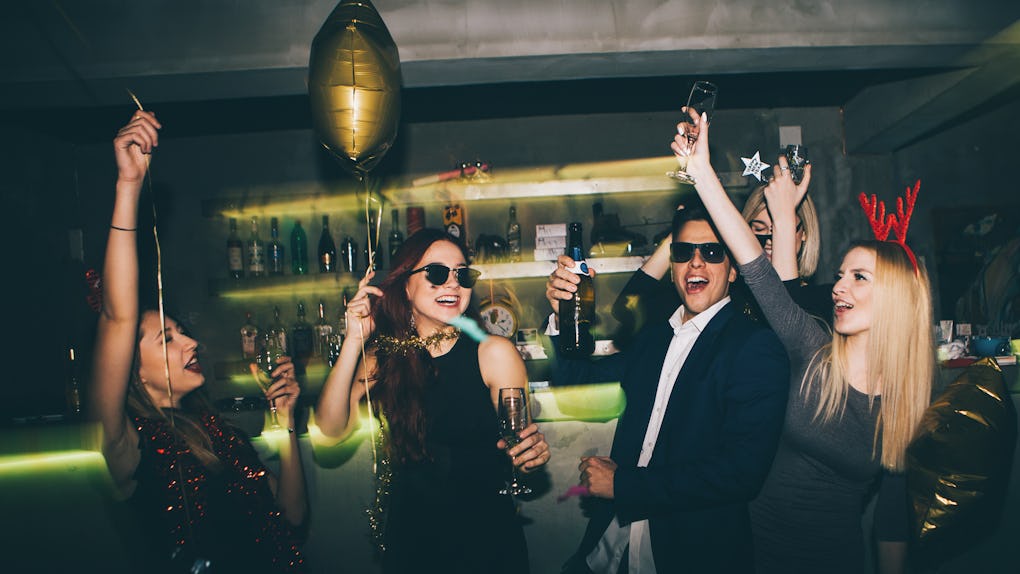 astarot/Shutterstock
7 Christmas Bars In NYC You Need To Visit For The 'Gram
Once Christmastime hits, it means soaking up as much of the festive time you can get. Personally, I want to see a holiday sweater in every establishment I walk into. And if you're incredibly lucky, you'll stumble into a few Christmas bars in New York City that are every holiday fanatic's and cocktail enthusiast's dream come true.
How exciting must it be to live in a city where you can gallivant down a block and enter your own winter wonderland that serves drinks? Seriously, these bars in New York were smart, because everyone knows that you can always expect major fun when you combine your love for the holidays and a shot or two of the adult stuff. It's a collaboration of two worlds we never thought we'd get to experience together.
There's just something about being surrounded by Christmas decorations while sipping your favorite cocktail or the house special. Even if you don't have your ugly Christmas sweater on at the time, you're bound to be cheery as f*ck. The great part is that more than just a few bars are embodying the Christmas spirit in NYC. Seriously, if you're #blessed to find yourself in New York anytime this holiday season, hightail it over to these incredibly Instagram-worthy spots (if you're 21 and up, of course).
1. Sit In A Winter Igloo At 230 Fifth Rooftop Bar
Who knew you could have fun in an igloo without having to experience those brutally negative degrees of temperature? It's like your own little private tent on a picturesque rooftop bar. Those complementing lights make it seem like you stepped into a different dimension or something. Oh, and don't be surprised if you're all of a sudden in the mood to give or receive some Eskimo kisses from bae.
2. The Decor Is Incredibly Lit At Rolf's
According to Town & Country, this dreamy venue dishes out around $60,000 a year on Christmas decorations. If that's not dedication, then I don't know what is.
Even if you snapped one picture the entire night, your Instagram couldn't get anymore lit. This place is perfect for posting up solo, on a date, or even with a group of your friends. There are so many decorations in this place, no two selfies could ever be exactly the same.
3. Mickey Spillane's Wreath Game Is So Strong
This is a great walk by shot to snap for your Instagram. How often do you find glowing wreaths made out of empty cups? Even with the backlog of red Solo cups you and your friends have had, you probably never even made one. Hey, you have to make do with what you've got, right?
4. Haven Rooftop Transports You To A Winter Wonderland
As if New York wasn't already on people's travel bucket list, these bars will seriously make everyone swoon. Haven Rooftop is no exception, and this season, it's transformed into a dreamy ski chalet. Get ready for a fun time with seasonal cocktails, people.
Since the city is a pedestrian-privy place, you can hit up more than one of these gems in a night. As always, drink responsibly and come up with a solid game plan beforehand.
5. Get Cozy At Eataly Rooftop Bar
This rooftop bar at Eataly brings on all the cozy feels, and that's what the holidays are all about. We all love that warm feeling we get at the sight of a beautifully-decorated Christmas tree, or when a seasonal song begins to play. Magic is seriously everywhere, and if you could get a cheers or two in, why not?
6. Mingle And Jingle At Pete's Tavern
This bar has been around for quite some time, and as you can see, you get a little bit more of an intimate setting. That doesn't mean the decorations are any less extravagant, though. And if you're in the area of this tavern on Christmas Day or New Year's Eve, they will be open to celebrate. Mingle, jingle, and sip.
7. "Bar Car Nights" For The Win
Love trains, Christmas, and a celebratory drink? Bar Car Nights is an adult viewing of the Holiday Train Show. You're also surrounded by holiday decor and won't have to get odd looks if you're overly excited about the passing trains. Fellow adults with your shared enthusiasm will be right by your side, doing the exact same thing. The New York Botanical Garden looks so incredibly magical this time of year.
Since it's the season to be cheery, you might as well find a bar that really makes you want to cheers. There's nothing wrong with enjoying the holidays, one sip at a time.