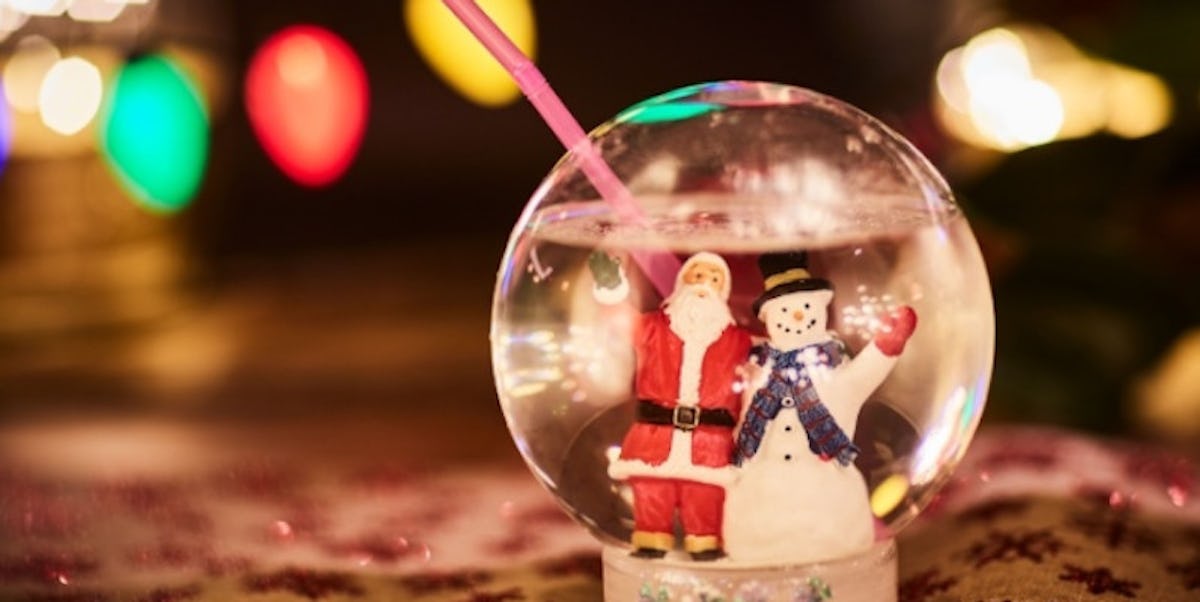 This Bar's Adorable Snow Globe Cocktails Will Get You Drunk Off Christmas
Instagram
There are three things we can all agree we love: Christmas, drinking and getting a ton of Instagram likes.
And if you visit LOCL Bar, you can now combine all three into one festive activity.
The NYC bar – which is located inside NYLO Hotel – is currently serving cocktails inside snow globes as part of its holiday pop-up takeover. The space has been temporarily renamed A Midwinter's Night Dream.
COME ON. Look at how adorable this is. It really doesn't even matter what you're drinking when it's out of this. You're essentially inhaling liquid Christmas at this point.
If you really must know what's inside the cocktail, it's called Shakespeare's Globe. It contains gin, root beer, vanilla syrup, cointreau and Douglas Fir liqueur.
What's Douglas Fir liqueur? Happy you asked. It's alcohol that tastes like a Christmas tree.
OK, that doesn't actually sound delicious at all. But it's Christmas time, so stop being a grinch and just enjoy your plant-flavored liquor.
Look at how enthusiastic these commenters are. May2700 is willing to sell her soul just to get her hands on that Christmas globe drink.
You're not going to get a cuter Instagram pic this holiday season. Plus, if you keep the snow globe when you're finished, you have the perfect gift to give your strange, doll-loving great-aunt this Christmas!
(No, I don't know if you're technically allowed to keep the globe. But we were all thinking it... right?)
If you don't live in NYC, you can still get drunk in a seasonally appropriate way. "Miracle" is the name of a Christmas-themed pop-up bar you can find in plenty of major cities, including Washington DC, Louisville, Atlanta and Chicago.
They don't use globes. But they DO use mugs shaped like Santa's pants. Close enough.
Their Christmas cocktails include the Christmapolitan, the Bad Santa, the Brazen Blitzen and the Santa-quila. They even definitively answered the question of whether or not "Die Hard" is a Christmas movie by naming one of their cocktails "Yippie Ki Yay Mother F****r!"
So, gather your friends, put on your ugliest Christmas sweater and make the pilgrimage to LOCL to get your globe drink on before it closes on January 1. Your Instagram will thank you.
Citations: Time Out, VinePair, Cosmopolitan