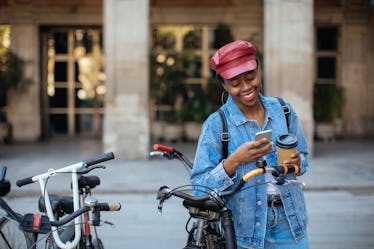 7 Casual Questions To Ask A Dating App Match & Keep The Convo Going
Ask any millennial what their favorite dating app is, and they'll probably have an answer — with at least three reasons — back in seconds. If you're all about dating apps, you're not alone. Personally speaking, I met my husband on Bumble, so obviously I'm a fan of that app. But in reality, every dating app is awesome in it's own way, and if you are using one (or two or three!) to meet new people, it can be exhilarating. Still, it can help to have some casual questions to ask a dating app match in your back pocket, just to be safe.
If you want to keep the conversation moving with a match on a dating app, then it doesn't hurt to be prepared. While you get to know someone, it can become a challenge to think of things to talk about that aren't too serious. Especially if you're talking to someone new, and don't want to rush into things, keeping things light and funny is a smart move. The most important thing is to keep the spark going, no matter what.
"People get busy and the conversations lose momentum," Meredith Golden, a dating coach and dating app expert, previously told Elite Daily. "Once it flatlines, it's hard to resurrect [the spark]."
So, to keep the chemistry alive, send one of these messages: