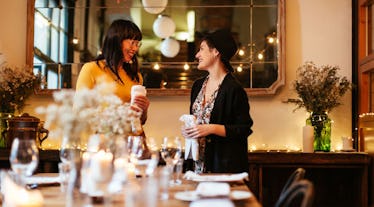 7 Brutally Honest Phases Of Spending Thanksgiving With Your SO's Family For The First Time
Are you as shocked as I am that the holidays are here again already? It seems like it was just Christmas and here we are again, awash in a sea of pumpkin spice and gravy. Not that I'm complaining — I actually love the holiday season. I love the music, the decorations, the weather, and, most of all, the food. Sitting down for that holiday meal with the people you love is always special, but it can also be stressful, especially when you're meeting bae's parents and facing down the brutally honest phases of spending thanksgiving with your SO's family for the first time.
Now don't get me wrong, it can be a really amazing experience. They could be wonderfully warm and welcoming people, but it's totally normal to feel some pressure to make a good impression the first time you meet them. Don't fret! While it may seem a little daunting, you can definitely take solace in knowing you aren't alone. Anyone who has made that first holiday trek to their partner's parents' home knows that these struggles are real, but they've gotten through it, and you will too! Here's what you can expect it will be like — and how to survive Thanksgiving dinner like a pro.