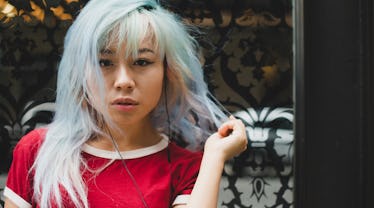 7 Brutally Honest Phases Of Realizing Your Partner Is Cheating On You
Have you ever been cheated on? If the answer is yes, you know how devastating it can be to discover the betrayal. In an instant, your entire world is turned upside down when you suddenly realize that the person you love is not who you thought they were. But there is also a silver lining: Like all of the hardest things we face in life, they make us come out stronger, more resilient, and smarter on the other side. So, if you've been through the brutally honest phases of realizing your partner is cheating, congratulations, you are a survivor and you know even heartbreak won't break you.
While there definitely is light at the end of the tunnel, as you're going through it, things can feel really dark. From the moment you suspect your partner, until you're finally over the whole thing, there are a handful of pretty predictable steps that anyone who has been in your shoes (or will be sometime in the future) will definitely relate to. This won't be easy to read because, yeah, the truth hurts, but these are the brutally honest phases you go through when you discover your partner has been stepping out on you.