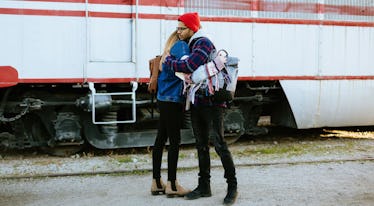 7 Brutally Honest Phases Of Breaking Up When Your Partner's Moving Away That Are So Real
Going through pretty much any breakup is difficult. Rarely is separating from another human being a diplomatic and clean affair. Add the fact that your partner is relocating to the picture, (which makes getting back together unlikely) and you've got yourself some depressing feels. Breaking up when your partner's moving is like compressing all of the inherently awful parts of normal breakups without any of the hope that you will end up getting back together in the near future. And considering hope is the thing that so many of us cling to during the end of a relationship as a way of shielding ourselves from the crushing realization it's over, not having that means that the initial road ahead is going to be even rougher.
The thing that most people don't realize though, is that this lingering hope that an ex will resurface can keep you invested in a relationship long after it has ended. So, if you're dealing with an imminent breakup because your partner is leaving town, there's a silver lining in that the breakup Band-Aid is going to be ripped off, and hopefully, you'll be able to heal and move on without all of the extended drama of post-breakup hookups and the like. This is what you can expect from the road ahead.