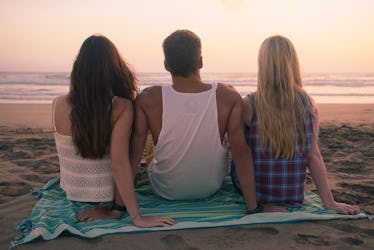 6 Brutally Honest Phases Of Breaking Up When Your Partner's Met Someone Else
There are a lot of reasons why people break up and none of them feel especially great, but possibly the most painful is breaking up when your partner's met someone else. There are just so many layers of betrayal there. Did they cheat? How did they move on so quickly? When they said "I love you," did they ever really mean it? On top of a broken heart, you feel gaslit and confused. It's really rough stuff. What you are dealing with is an "overlapper" — someone who, before ending their current relationship, has to start a new one. They are terrified of being alone, so when they sense there are problems in the relationship, rather than confronting them head on and risk being on their own for a while, they seek a replacement partner.
It's cold-blooded and can leave a former partner devastated in what feels like a double emotional gut punch. But here's the thing: Every breakup, even an extra gnarly one like this, is survivable. You will come out the other side smarter, stronger, and more resilient. You just have to power through to the light at the end of the tunnel. When you're still stuck in the post- breakup darkness, it may feel like it will never come, but it will. Here are the phases you'll go through to get there.