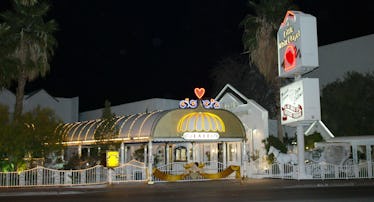 7 Women Share What It's Really Like To Get Married In Vegas Like Joe & Sophie
Frederick M. Brown/Getty Images Entertainment/Getty Images
We hear about it happening in sitcoms and romantic comedies all the time, but do people really get married in Las Vegas? Well, yeah. And, in a recent Reddit AskWomen thread, brides who had Las Vegas weddings shared all the deets about what it was like.
For those of you who might have missed the memo, Las Vegas weddings are a particularly hot topic right now after Joe Jonas and Sophie Turner tied the knot in a Las Vegas chapel after the Billboard Music Awards on May 1. Luckily, Diplo was there to film the whole thing and livestream it on Instagram so fans were able to join in and watch the entire ceremony — complete with a performance by Dan + Shay and an Elvis impersonator as the officiant. Considering the fact that the couple had previously told the world they weren't going to tie the knot until this summer, fans were shook to their very core. And also, IDK about anyone else, but it low-key really made me want to get married in Las Vegas.
And now, after reading the accounts of these seven women, I'm convinced! It turns out Las Vegas weddings are awesome, even if you're not an A-list celebrity, and now I need to have one. Need, not want!!!
Read along and prepare to want to have one of your own.