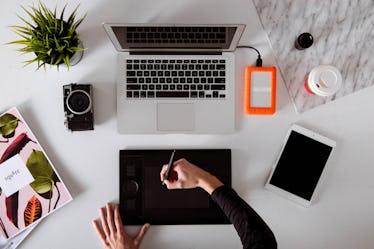 7 Black Friday 2017 Laptop Deals That'll Make You Forget You Wanted The New iPhone
Though we've all gotten used to having a smartphone at our fingertips, sometimes a larger device is in order for straightening out finances, creating projects, and most importantly, looking at those Instagram selfies on the big screen. For those who are starting a new semester or just looking to update their gadgets, the holidays are a perfect time to purchase a new laptop — especially when there are a bunch of savings calling our name. Here are seven Black Friday 2017 laptop deals that are definitely worth exploring if your phone screen just isn't cutting it anymore.
Head back to campus with a new laptop — the perfect tool for essays, power points, and the occasional Facebook stalking session with roommates. Customers are entitled to up to $200 off various Dell devices, so this deal definitely deserves a peek. Want to feel really high tech in that computer science course next spring? Opt for a Dell Inspiron touchscreen laptop for $599.99 (originally $799.99).
Best Buy is promising up to $250 off various laptops, such as the MSI GS Series Stealth Pro, which will be available for $1,299.99. If you foresee an Apple in your future, a 13-inch MacBook Air will be $200 off for $1,199.99. With a couple of extra bucks in your pocket, you can explore Best Buy's other sweet Black Friday deals, such as 20 percent off KitchenAid appliances or $200 off the iPhone 8 or 8 Plus. Cha-ching, baby.
Is there anything better than buying in bulk? While that might not necessarily be the case in regards to laptop purchases, you can always stock up on fun holiday sweets at Costco while you're looking for the best laptop deal, and there are plenty of both. The store makes sure to provide discounts on a wide variety of brands — $90 off an Acer touchscreen (amounting to $199), $200 off an HP Pavillion touchscreen (totaling $699.99), $150 off a Dell Inspiron (available for $699.99). You certainly have options.
Those who love HP need not look any further. PC Richard provides up to $200 off various HP notebooks, so take a look at which model works best for you and get shopping.
We already know Walmart is kind to iPhone deals this Black Friday, but it's also a go-to for laptop discounts. Who doesn't want to save upwards of $150 when purchasing one of these bad boys? There are even MacBook Pros available for less than $700. While you're at it, grab a couple of DVDs — you're going to want to stay in now that the weather is cold, so might as well make the most out of the winter season, right?
While trips to Staples always conjured up the back-to-school vibes, you are certainly going to love walking through the doors now. There are $499 HP Pavillions that usually reach over $800 thanks to Black Friday deals. Lenovo is another brand feeling the love from Staples with a $200 discount for a Flex 5 2-in-1 14-inch laptop (now $579.99).
Option 7: B&H
B&H is offering an exclusive, can't-miss opportunity if you absolutely need to have a Mac. You can score $600 off a 15.4-inch MacBook Pro from late 2016 for $1,799 (which was originally $2,399). Talk about savings. If B&H isn't in your general vicinity, I highly suggest getting in the car ASAP.
A friendly reminder to all those who are in search of a Mac laptop (or any other fancy schmancy Apple device): You don't have to go to the Apple store in search of Black Friday deals. Big-box retailers are your friends and are very kind to wallets everywhere, whereas the Apple store (while still wonderful) is less inclined to offer any major discounts.
Check out the entire Gen Why series and other videos on Facebook and the Bustle app across Apple TV, Roku, and Amazon Fire TV.