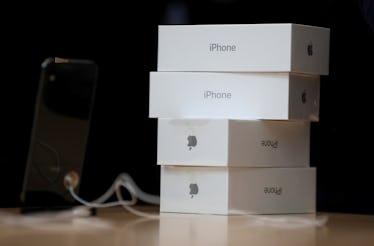 You Definitely Cannot Miss These Black Friday 2017 Apple Deals
Justin Sullivan/Getty Images News/Getty Images
With the release of a new Apple product oftentimes comes a hefty price tag. If you were a little hesitant to shell out the big bucks for a new gadget earlier this year, take comfort in the fact that there are some pretty sweet deals coming your way this holiday season. These are the best Apple Black Friday 2017 sales that require your attention, so start taking notes.
So what's the major takeaway for the Black Friday festivities? Go anywhere but the Apple store and you're sure to make your wallet happy with tempting discounts, as it's likely the Apple store itself will not be having Black Friday deals. Instead, you should consider heading to other Apple product sellers if you're looking for sales on the big day.
For one, big-box retailers are totally enamored with the iPhone... and you'll be totally enamored with their discounts, according to USA Today. Target — Greatland, the closest thing to Heaven on Earth — will give you a break on the iPhone 8 or 8 Plus with a $250 gift card. Likewise, Best Buy will also help you save on those iPhone models thanks to a $200 gift card. Both stores require that you sign on for service with Verizon, AT&T, or Sprint. Though each sale is taking place on Thursday, Nov. 23 through Saturday, Nov. 25, Target requires that you come into the store to complete your purchase, whereas Best Buy allows you to take advantage of the discounts in the store or online (aka in bed in your jammies). Grab your old phone, start talking to Siri, and make sure you get yourself set up accordingly for these deals.
But perhaps the most generous retailer out there is Walmart, per USA Today. Not only is the store offering $300 off in the form of a gift card for the iPhone 8 and 8 Plus — and even last year's iPhone 7 and 7 Plus, if you're a little behind — but the company is also putting this major discount toward the highly anticipated (and highly expensive) iPhone X. Sound the alarms, my friends, this is not a drill. The $999 phone is getting a big, ol' discount.
There is one slight catch to this good news, though. If you're going to take advantage of the iPhone sales at Walmart, you need to sign a two-year lease deal with either AT&T or Verizon. It's definitely not a make-it-or-break-it situation, but it's something to note as you get your Black Friday swag on.
If you're more inclined to skip out on the cell and grab another device, you're in luck. News has circulated that the 2017 9.7-inch iPad with 32GB is going to be a go-to item for the holidays this year, and understandably so. The Wi-fi-only model is just $250 at Best Buy (and $249 at Walmart and $249.99 at Target). If you're looking to read, game, and surf the web, this is the purchase for you.
But let's say you're looking to make a statement with accessories. Not a problem, dear shoppers, Apple has your back. The Apple Watch is another gadget that is experiencing a price cut during Black Friday, so now you and your Kris Kringle recipients will be telling time in the most stylish way possible. Best Buy offers you up to $30 off Apple Watches, whereas Target's Series 1 Apple Watch models are available for $180. It's time (see what we did there?) to cash in on one of those stellar deals.
If you're in need of a new laptop for school or figure it's time to upgrade anyway, select Macbook Pro models will be up to $250 off at Best Buy. It's always good to start a new semester on a clean slate, and a new computer is definitely the way to go. Now you have all the room to clutter your iCloud with projects, papers, and new résumés.
Grab a cup of coffee, find your credit card, and get ready for a whirlwind of a day this Black Friday. There are loads of products within your reach, and Apple fans everywhere can revel in the price cuts. Happy shopping.
Check out the entire Gen Why series and other videos on Facebook and the Bustle app across Apple TV, Roku, and Amazon Fire TV.