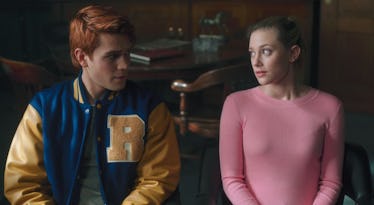 7 Best Betty & Archie Moments That Are Relatable AF If You Have A Guy BFF
Forget the drama of a black-hooded killer, and Riverdale is really all about the relationships between Archie, Betty, Jughead, and Veronica. When we first met Betty and Archie, Betty really liked Archie more than just friends, but we all know that didn't work out, and now we have Bughead to dream about. Even though there were some dramatic moments, these two always remained BFFs. They grew up together as besties, and if you also have a guy BFF, watching the series can feel totally relatable at times, especially when you watch these Betty and Archie Moments from Riverdale.
Having a guy BFF is a little different than having a girl BFF, but at the end of the day, you know the key factor that makes them your bestie is that they have your back and you can confide in them. When Betty wasn't sure who to turn to when the Black Hood was harassing her, she knew she could trust Archie. He helped her get through a tough time. You may not be avoiding a killer in your town, but the sentiment is the same. When you watch these seven Betty and Archie scenes, you're reminded of your relationship with your BFF. While you wait for new episodes of Riverdale to come, you can get a little taste of that whenever you hang out with the Archie to your Betty.