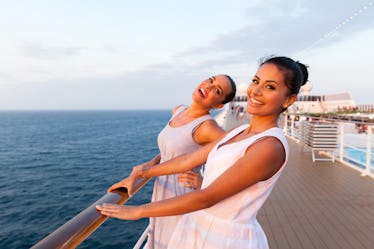 These Are The Best Cruises For Spring 2018, So Ship Back & Relax With Your Girls
Cruises are one of the most relaxing and enjoyable vacations you can give yourself. Seriously, you can sleep in, relax by the pool, sip on something tropical, and engage in all of the on-board activities before you dock and head to some more fun. And when it starts getting warm, you want to soak up as much as you can. The best cruises to take this spring are coming up faster than you think, and you don't want endure that FOMO.
Your girl squad will conquer that cruise ship, and by the time you set sail, your crew will already be the life of the party. Cruises are amazing because you get the fresh air of the sea, and it beats sitting in a plane to travel somewhere. Everyday you have an itinerary of what's going on and you do absolutely whatever you want. Bathing suits, drinks, food, and friends — how could this not appeal to millennials?
Luckily, you won't have to pile on any more debt to embark on one of these cruises. Let's face it, Sallie Mae has you in a bit of a bind until further notice, doesn't she? Don't let the fear of cost deter you from amazing cruise adventures. Any of these cruises should be booked for you and your girls, ASAP.