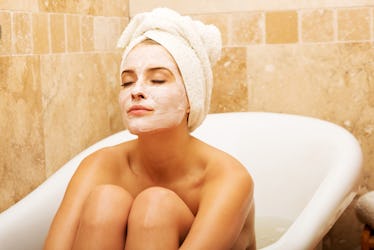 7 Apple Cider Vinegar Face Masks To Treat Yourself To This Holiday Season
It's no mystery that apple cider vinegar can be used in more beneficial ways than one. And as unappealing as it may smell, it comes in handy for keeping your skin rejuvenated and healthy through the dryer, colder months. Apple cider vinegar face masks will leave your skin feeling like it has never encountered a speck of dirt or dry discomfort in its life.
Seriously, your skin eats that sh*t up and leaves you with a glow like you've never seen before. If you're on the fence about what little gift to give yourself this holiday, gift yourself peace of mind. An apple cider vinegar face mask will instill you with that sense of security. Taking the appropriate steps to pamper your skin is essential, after all.
Be sure to find a regime that works well for you. Remember — we all have different skin tones and skin types, which means something that works for someone you know isn't necessarily going to work for you. Luckily, apple cider vinegar doesn't discriminate. The slice of heaven on earth can be found in several different forms, and they're all here to help you glow, slay, and enjoy the hell out of a DIY spa day. Oh, and for those of us who repel the store, there are a couple of these masks that can can be made with stuff you already have in your cabinets. You're welcome.