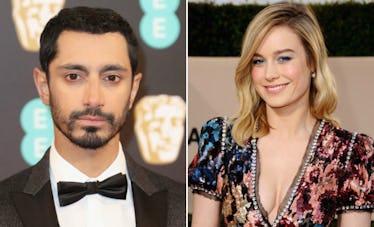 7 Hollywood Stars With Low-Key Music Careers You Should Seriously Know About
Chris Jackson/Getty Images Entertainment/Getty Images | Jon Kopaloff/Getty Images Entertainment/Getty Images
If you've ever watched shows like Glee or even American Horror Story, you know that some of Hollywood's best actors are also very musically inclined. Some of them sing, play various instruments, or even rap. But there are a host of other actors out there who aren't so open about their musical pursuits. It's no secret that Hollywood is home to a lot of amazing, and often hidden, talent. That's why these seven actors with secret music careers may have eluded your grasp... until now.
1. Riz Ahmed
You know Riz Ahmed as an actor and an activist, but did you know he's also a rapper? Yep, he definitely is! When it comes to music, Ahmed goes by Riz MC. Since 2011, he's released a full-length album, a mixtape, and several singles. Most recently, Ahmed shared a music video for a new single called "Mogambo."
2. Zoe Kravitz
Everyone knows that Zoe Kravitz is the daughter of legendary rocker Lenny Kravitz. What they may not know, though, is that she's a musician herself. The 29-year-old actress is one half of R&B/electropop duo Lolawolf. The duo has released two EPs and a full-length album since coming together in 2013.
3. Dylan Minnette
Fans of 13 Reasons Why love Dylan Minnette for his good looks and great acting skills. They also love him for his incredible musicianship. Minette is part of a band called Wallow, which released their very first song in April 2017. Minette contributes his vocals and guitar-playing skills to the band and all together, they make some interesting music.
Here's a look Wallow performing live:
4. Brie Larson
Brie Larson is an Academy Award-winning actress who's all set to join the comic book world as Captain Marvel in the 2019 film. One thing you may not know about Larson, though, is that she used to be a pop star. Well, she was more of a two-hit wonder and sang edgy pop songs that are kind of a mix of Avril Lavigne and Mandy Moore. Don't believe me? Check out the music video for her song "She Said":
5. Donald Glover
Donald Glover is, by far, one of the most talented people of his generation. He's a fantastic actor and a true visionary, but what a lot of people don't realize is that he's also a musician. He is quite literally Childish Gambino and for some strange reason, loads of people don't make the connection!
This guy here accepting an Emmy for Atlanta...
...is the same person who performed "Redbone" on Jimmy Fallon.
So, maybe his music career isn't so secret after all, but everybody needs to get on the same page and realize it's the same person!
6. Lucy Hale
Although she's best known for her role as Aria Montgomery on Pretty Little Liars, Lucy Hale is also a talented singer. Her debut studio album was released in 2014. Since then, she's collaborated with Rascal Flatts, recorded a cover of Idina Menzel's "Let It Go", and participated in a Christmas album, which was released in 2017.
Not familiar with her music? Check out one of her music videos below:
7. Anna Kendrick
To most people, Anna Kendrick is a funny girl on the big screen. But truly dedicated fans of the actress know that she's also a skilled singer. Back in 2012, Kendrick had a hit with the song "Cups" from her film Pitch Perfect. Even if you think you don't know the song by name, I'd bet you'd recognize it from hearing it. Here's the video:
Kendrick has also tried her hand at Broadway, earning herself a Drama Desk Award Nomination for her role High Society back in 1998. So, singing is not new for her!
These are just a few names in the acting business who have some serious musical skills. I'm sure there's plenty more out there that the world doesn't know about yet.