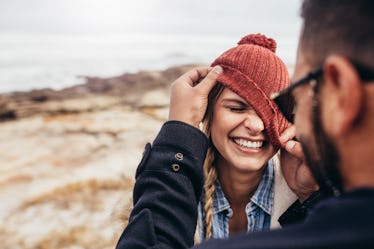 6 Zodiac Sign Pairings That'll Fall In Love This Cuffing Season, So Get Ready
Don't be fooled by the warm temperatures, cuffing season will be here sooner than you think. Before long, you might notice your friends start disappearing one by one into pairs, to snuggle up with a new bae through the cold, cold nights. This means now is the perfect time to figure out who you're going to hibernate with this year (and maybe even beyond!) by knowing the zodiac pairings that'll fall in love this cuffing season. Take notes, y'all.
It's easy to think of this time of year as optimal for a "for now" partner, and sure, that can be true. But, it's also a great time to find a forever partner if that's what your heart truly desires. That's because some folks are not only in an emotional and mental place where they're open to settling down, but cuffing season is also just a cozy, homey time of year. Being with the right person during all the fireside chats and the pumpkin spice frenzy can get anyone in their feels and thinking about how much they'd like to enjoy this connection year-round. It also doesn't hurt if you're astrologically aligned. So, if you're keeping an eye out for someone to spend the season with, it might be a good idea to consider these zodiac signs. You might end up catching real, life-changing feelings for them that last well beyond cuffing season. You never know!