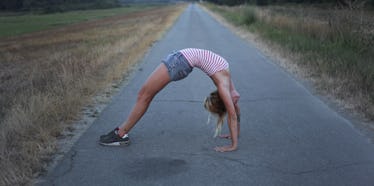 Look Out For These 6 Sneaky Red Flags When You First Start Your Yoga Practice
When you first start practicing yoga, it can be easy to get wrapped up in the magic of the practice and how incredible it makes you feel both mentally and physically. But as with any form of exercise, there are a few precautions to keep in mind to make the most out of your experience, and ensure you'll avoid injuries in the long-term. Whether you're a beginner yogi or an advanced practitioner, you should always be looking out for a few yoga red flags that might put a damper on your flow time.
As a yoga teacher myself, the main thing I'd advise beginners to look out for is to make sure they're not constantly comparing themselves to others, whether it's the person next to you in a studio class, or even a yogi whose YouTube videos you follow along with. It's your practice, and that blissful time you have on the mat is meant to serve you in every way, regardless of where you are in your skills.
Of course, there are some physical red flags to look out for in yoga, too, and they're just as important to pay attention to so that your practice stays comfortable, safe, and serene.
A good instructor will usually cue these things during your flow, so make sure you're paying close attention! Here are six yoga red flags you should keep an eye (or ear) out for if you're newly committed to your time on the mat.