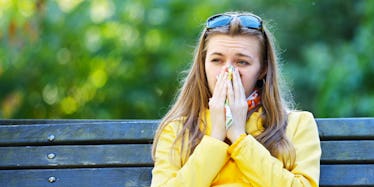 If Your Allergies Are Taking Over Your Life, This Yoga Flow Will Provide Some Relief
I hate to be a Debbie-downer in this gorgeous weather, but along with all this sunshine comes allergy season, my friends. As amazing as it is to finally be able to spend time outside, ya boy pollen is here to try and ruin all the fun. While allergy meds are an absolute must during spring, you might not know there are also yoga poses for allergy relief that can help ward off that incredibly annoying, tickling sensation that's rudely taken residence in your nose and throat.
In case you're one of the few lucky ones among us who hasn't been hit hard by allergies this season, allow me to break down just how irritating it is for some of us to be outside right now: According to AccuWeather's 2018 spring allergy forecast, high pollen counts have already made their debut across Florida and Georgia, and by the end of May, allergy season is likely to be in full swing in all, or at least most of the U.S. So if you're not yet suffering from puffy eyes, an itchy nose, and the constant urge to sneeze, get ready, because pollen is coming for you, girl.
And when it does, take that as your cue to roll out your yoga mat for some serious mind-body relief. Yes, it's definitely still important to talk to your doctor and use any medications prescribed to you for your allergies, but to supplement all that good stuff, a soothing, balancing yoga flow will give your body and mind an extra layer of protection to help keep your worst allergy symptoms at bay — or, at the very least, teach you how to breathe mindfully when your nostrils are clogged AF.