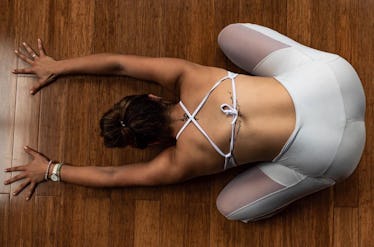 Here's How These 6 Workouts Completely Transformed My Yoga Practice
I used to get injured a lot in yoga. My body was constantly stressed out, which, when you think about it, basically defeats the entire purpose of a yoga practice. It honestly took me a long time to realize I was both ignoring what my body needed, and relying far too much on my inherent flexibility. I was ignoring the fact that physical strength is imperative to a yoga practice, no matter who you are. It was only when I began including workouts that benefit your yoga practice into my fitness routine that I saw my entire physical practice transform, my injuries decrease in frequency and severity, and my time on the mat become abundantly more enjoyable.
According to Eliza Nelson, ACE, a certified personal trainer and orthopedic exercise specialist, there tends to be a big emphasis on lengthening and flexibility in yoga, "but adding strength work can have a profound impact on improving your practice," she tells Elite Daily in an email. "Actually, in order to have healthy flexibility or range of motion, you have to focus on both lengthening and shortening (contracting) the muscle fibers to keep the muscles strong, healthy, and in a prime state to prevent injury."
Here's the thing: I loved — and I mean loved — backbends, and splits, and deep forward folds, and long, luxurious hip openers. But I used to rely only on my flexibility; I was failing to include the foundational strength training that would balance it all out. Essentially, as a yogi, I was all about preaching balance, but physically, it was what I was lacking all along.
I'm not saying everyone has to include strength training in their fitness routine in order to have a healthy and sustainable yoga practice, but what I am saying is that, for me (especially with the more advanced inversions, bends, and balances I enjoy doing in my practice), incorporating certain strength training moves made my time on the mat feel so much better — not to mention, it's a lot more safe overall.
Nowadays, I tune into my body, and when it's asking for strength rather than length, I hit the gym. Here are the six moves I regularly incorporate into my routine.