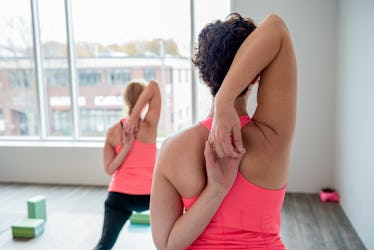 This Is The Workout You Need If You're Guilty Of Hunching Over Your Laptop All Day
If you take a look at, well, probably every single person around you, perfect posture might seem like an absurdly far-fetched myth. I mean, good posture still does exist, but in a society that runs on smartphones and desk jobs that seem to place permanent curves in our spines, you definitely have to work extra hard for it. Adding a couple of workouts for better posture into your daily routine is one way to go about slowly but surely straightening out your slouchy spine.
Keep in mind, poor posture isn't just something your mom nagged you about throughout your childhood for no reason whatsoever. Hunching over on the reg can lead to gnarly long-term side effects like chronic back pain, joint issues, and even progressively weakened muscles. Practicing proper posture is the key to avoiding these issues, and these workouts will do wonders to strengthen all the right muscles and make sitting up straight feel like the easiest thing in the world.
Whether you decide to try these bad boys out on your lunch break, or you make it a regular routine to wake up with in the morning, these workouts will slowly bring you up and out of that constant hunch — but you've got to work for it!