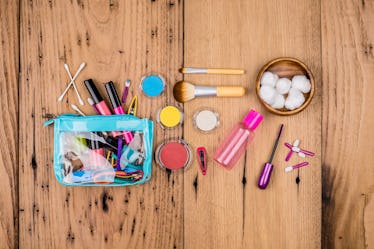 A Travel Blogger's 6 Tips On How To Stay Glam & Refreshed On The Road
Traveling is the ultimate dream, but it isn't always such a breeze. Let's be real here: Everything may look spectacular on Instagram, but even your favorite travel bloggers likely deal with the same relatable struggles behind the scenes. Unfortunately, you can't bring everything with you when you have to stuff your entire life into a carry-on bag. It's important that you choose wisely when it comes to deciding what to pack. As a travel blogger myself, I've learned that it's best to keep it simple when you're constantly on the go. Thankfully, there are some handy ways to stay glam on the road.
Some girls prefer to keep things simple when they hit the road. They prefer to ditch the hair straightener and leave their makeup bags at home. However, there's nothing wrong with wanting to stay glam on the go. After all, you've probably invested a lot of time and money into your trip. You should aim to look and feel your best, whatever that means to you personally. When you're constantly on the go, time is of the essence. You likely won't have the time, energy, space, or convenience to constantly pamper yourself like you would back home.