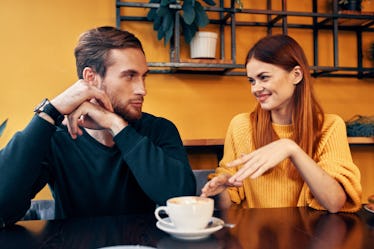 If You Want To Feel More Comfortable Dating People From Apps, Try This
Shutterstock
Dating apps are a fantastic way to put yourself out there and meet some new people, but it can also be a little intimidating to actually meet IRL for the first time. Even if you've been chatting on a dating app for a few weeks, you might not feel completely comfortable meeting them in person, and that's OK! Fortunately, there are plenty of great, expert-approved ways to feel more comfortable meeting people from dating apps to take note of, so you can get off your phones and get some real-life face-time in. After all, how else will you know if you have chemistry?
"Committing to a chunk of time with someone you've never met can be daunting," online dating expert and CEO at Cyber-Dating Expert, Julie Spira, tells Elite Daily. "Just because you have a fun and flirty banter in your messages on the app, it doesn't guarantee you'll have that offline chemistry," she explains. "Let's face it, between photo filters and prom shot photos, everyone has been on a date where the person didn't look like their profile photos. After getting excited about meeting, it can sometimes result in a letdown and leave you feeling depressed about dating in general."
That's not to say that going on dates needs to be a stressful experience. It doesn't, but know that it's perfectly normal to feel anxious about it. If you're looking to overcome this stress, try some of the tips below.