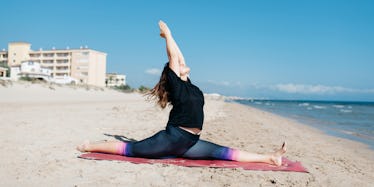 6 Tips For Beginners In Yoga Class Who Have No Clue What The Instructor's Trying To Tell Them
When you're new to yoga, going to your first class can be intimidating as hell. Even though I'm a certified yoga instructor now, I can vividly remember absolutely despising the first class I ever went to, and that was mainly due to the fact that I had no clue WTF I was doing. TBH, I probably should've looked up some tips for beginners in yoga instead of blindly throwing on some Lululemon leggings and hoping for the best, but I digress.
Walking into your first yoga class feels kind of like losing your only friend at a frat party: You're likely to feel lost and confused AF, and you might find yourself frantically glancing around the room for some sort of guidance.
But trust me, all your feelings of uncertainty and hesitation are mostly in your own head, and once you manage to relax and focus on your breathing, you'll realize that what you signed up for is actually an incredibly rejuvenating experience where there are absolutely no expectations or judgments thrust upon you.
So, whether you've already hit up your first yoga flow and feel bewildered by the experience, or you're planning to take a beginner's class in the near future, here are six tips you should definitely take with you out the door and onto the mat.