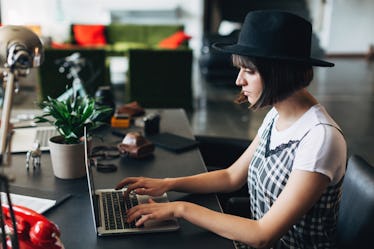 6 Things You're Doing Wrong At Work That Only Make It Harder To Show Up Every Day
I hate to break it to you, but if you thought fitting into the mold of high school or college was challenging, the workplace isn't always a picnic either. Needless to say, adulting is hard, and similarly to how your professor establishes their own class curriculums and universities create official codes of conduct, professional environments have their own ebb and flow. Like anything else, getting better acquainted with a company's vibe takes some adjusting at first. But if you've held your position for quite some time, and it still feels like you aren't fitting in, you might want to consider the things you're doing wrong at work before jumping to conclusions. Chances are, your co-workers aren't actually conspiring against you in hopes that you'll call it quits.
Blink 182's lead singer Tom DeLonge wasn't wrong when he sang that famous "All The Small Things" lyric, "Work sucks, I know," because, be honest, it's crossed your mind at least once or twice. Even if you're genuinely happy in your current state of employment and/or doing what you love, the grind isn't always so great. We've all experienced lulls that make it hard to show up and perform to the best of our abilities each day, and that's fine, but don't be so fast to point the finger. Sometimes, it's actually not them, it's you (no offense). Here are a few things you might be doing wrong at work that are affecting how you feel about showing up to the office every day.