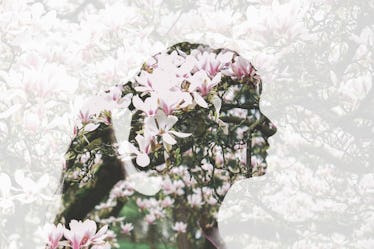 When Your Mind Is Racing With Stress, Try Thinking About These 6 Things To Calm Down
Have you ever felt so incredibly stressed out that your mind refuses to stop racing, no matter what you try to do? Whether you're in a rough patch with your SO and you keep mentally going over that late-night convo you had, or you just got offered a lot more responsibility at work, any number of things can cause your head to start chattering with no end in sight. But there are things to think about when you're stressed that can help you get rid of those racing, anxiety-inducing thoughts. Take a deep breath, girl. It's going to be OK.
Listen, I totally get it. There are so many things to be stressed out about in today's world, so you, my friend, are certainly not alone in your ruminating. As The American Institute of Stress reports, a survey done by the American Psychological Association in 2017 found that the most common sources of stress right now include the future of our nation, money, and work. What's more, the survey found, 73 percent of Americans say they "regularly experience psychological symptoms caused by stress." Yikes.
To say the absolute least, the effects of stress and anxiety can wreak some serious havoc on your mind, body, and spirit, so finding ways to cope with those lingering symptoms of stress, both in the long-term and in the present moment, is, absolutely necessary. To start off small, here are a few, calming things to think about when you're feeling beyond stressed out.