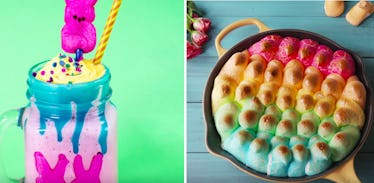 These Peeps Recipes Are Colorful AF, You'll Want To Snap A Pic Before You Dig In
Don't you just love Easter? It's officially springtime, and the weather will be warming up soon enough. The flowers are coming out of hiding, you're spending time with family and friends, and, of course, participating in all of the Easter traditions. You know what I'm talking about — decorating and dyeing the eggs, getting caught up in the big family egg hunt, making Easter baskets for your little cousins, and of course, eating Peeps candy. I know, sometimes there are just too many Peeps to eat. So, what's a gal to do? Find things to make with Peeps, of course.
You have to admit that along with the chocolate eggs, Peeps are an Easter time staple. Is it even the right time of the year if Peeps aren't being sold? No. The answer is no. And honestly, Peeps are so yummy, they deserve an invite to this upcoming Easter, and every Easter to come.
This year, why not make something sweet with your abundance of Peeps? When you're baking with the fam, it's time to start incorporating Peeps into more areas of your Easter celebration — like breakfast, drinks, and dessert. These six Peeps recipes are sugary sweet, and I promise that they'll impress your guests. Now what are you waiting for? It's time to get cookin'.