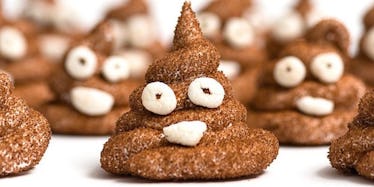 These Poop-Emoji Peeps Are The Adorable Treats You Need To Try This Easter
Food and poop are two things you normally never want to mix.
Unless we're talking about snacks resembling adorable poop-shaped emojis, of course!
Yep, if you're looking to embrace your inner potty mouth this Easter, you came to the right place.
Matthew Cetta, the talented foodie and photographer behind the Nomageddon blog, just did the unthinkable and turned your beloved little marshmallow treats into emoji-inspired snacks that are truly the sh*t.
Yep, these poop-emoji Peeps ditch the boring, old bunny shapes for swirled piles of marshmallow decked out in crunchy coatings of sugary cocoa powder and brought to life with that signature smiling face we all know and love.
If you're looking to eat like crap this weekend, you'll be glad to know Cetta was even nice enough to reveal his sh*tty recipe.
According to Cetta, these lil' stinkers are relatively simple to make since "marshmallow [Peeps] are pretty much marshmallows coated in dyed sugar crystals."
Peep the pictures below to see these adorable emoji eats.
Forget the boring, old bunny-shaped marshmallow treats. Matthew Cetta, the hilarious dude behind the Nomageddon food blog, just gave your favorite Easter candy a crappy makeover that actually looks cute AF.
That's right. Poop-emoji Peeps are now real things, and these delicious smiling deuces are a necessity for every emoji lover's Easter basket.
If you're looking to score some of these sh*tty sweets, all you have to do is grab some sugar, cocoa powder, gelatin, vanilla and food dye, follow the recipe directions on Nomageddon, and before you know it, you'll be stuffing your face like a true potty mouth.
Citations: Poop Peeps (Nomageddon)