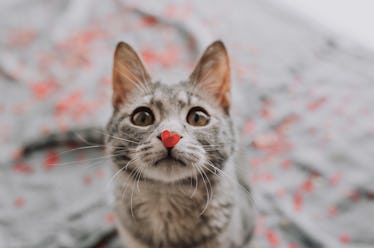 6 Things To Do With Your Cat On Valentine's Day, Because They're The Purrfect Date
Valentine's Day is supposed to be spent with the people we love. That could mean your partner or your favorite squad of girlfriends. But, for some of us that one "person" we want to celebrate with isn't a person at all. It's actually our purrfect little fur baby. Forget date night with bae, because we want cute cuddle time with our precious kitty. They deserve all the love we have to give in this world, so instead of planning a dinner out, you're probably looking for things to do with your cat on Valentine's Day.
Even if you aren't single, you understand how important it is to include your feline friend on your date night plans. Tell bae that you're happy to spend Valentine's Day with them, but you want to be doing any of these six activities that involve your cat, too. If you are single, you don't have to curse Cupid for not setting you up, because you're perfectly happy with the Valentine who fills your heart with so much happiness. There is no other person out there who has the coziest cuddles, the cutest little eyes, and makes you laugh uncontrollably just by being themselves. Your cat really is the most pawsome date you could ever ask for, and you'll be smitten like a kitten just by being with them this V-Day.