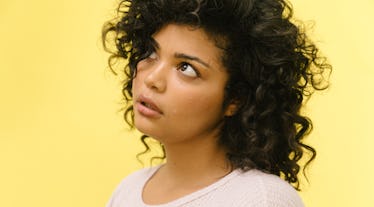 6 Things People Who've Never Been In A Relationship Are Tired Of Hearing, So Please Stop
Ashley Batz/Bustle
As awesome as relationships are, they aren't everything. Being single is great, too, and there's absolutely nothing wrong with you if you feel like you're always single. I can relate. Before I'd met my fiancé, I'd legitimately never been in an actual relationship. Sure, I'd gone on dates, had some fun, and had some flirtationships along the way, but never a real, long-term relationship. So really, I know that the things people who've never been in a relationship are tired of hearing are plenty, because I have experienced them firsthand.
Aside from awkward family gatherings where your great aunt keeps bugging you about what you're doing with your life, being single also means having to deal with a lot of unwanted advice from well-meaning friends. Sure, your married friends who have been together since high school only want you to be happy, but that doesn't mean you want to hear it all the time.
To be honest, I still hate hearing all of these things myself, and for those of us who've never had much relationship experience, it's always exasperating. There are plenty of reasons to have never had a relationship, but you don't owe anyone an explanation. Remember that the next time you hear any of these comments.