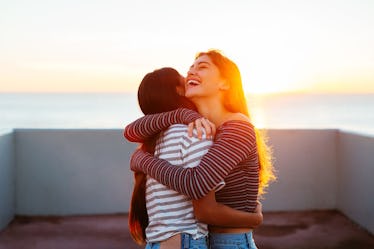 6 Simple Acts Of Kindness You Can Do Every Day That'll Put Positive Vibes Out Into The Universe
Sometimes, it can be difficult to feel like you're making a positive impact in the world. You're only one person, after all — right? Ditch that mindset, because there are simple acts of kindness you can do every day that will make someone else's day. Something seemingly as small as holding the door open or helping someone with their groceries can make them smile and put a ton of positivity out into the universe.
You don't have to do something elaborate in order to make someone else's day. Little acts of kindness can add up to something much bigger, and doing tiny, positive things on the regular may encourage others to do the same.
I'm a firm believer in the universe returning whatever kind of energy you put out into the world. So if you do random acts of kindness, you might be paid back in good karma at some point in the future. (Of course, that shouldn't be the motivating factor behind doing something kind — you should want to do it in order to help someone else out.)
Knowing that you played a small, but instrumental, part in making someone else's day a little brighter is such an incredible feeling. Here are a few little things that you can do every day to make the world a better place.