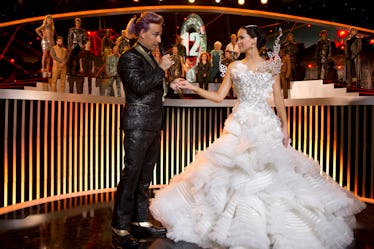 6 Series Like 'The Hunger Games' That Will Transport You To A New World
Lionsgate
The Ballad of Songbirds and Snakes marks the release of the first novel set in The Hunger Games universe in a decade. It is the first glimpse at its past for fans of the world of Panem, set a mere 10 years after the country was founded on the ashes of the United States. It's also a great reason to revisit the original Hunger Games trilogy of books. With summer around the corner and hours of leisure time to fill, fans will also be looking to read series like The Hunger Games, filled with characters who unwittingly find themselves in the center of revolutionary change.
The most obvious "series like The Hunger Games" is The Divergent series, which was made into a series of movies that started in the theater before moving to STARZ. There's also The Maze Runner, which also got a trilogy of big-budget films.
But with The Hunger Games now a decade old, most of the series have read both of them. This list digs a little deeper into novels that haven't hit the big screen. Instead, most of these novel series on the list have been made for TV, or are in the process of being adapted for streaming.