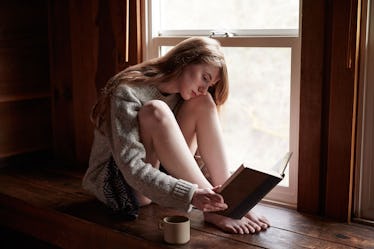 6 Most Swoonworthy Romance Novels To Read This Fall & Remember That Love Is Alive
Getting lost in a book and diving into a captivating narrative is truly one of my favorite things to do and a great way to connect with your own emotions and imagination. And the fall is a great time to wrap up in a cozy blanket, light a yummy scented candle, and open a book. (May I also suggest you turn your phone off? Like off-off?) If this sounds good to you and you're in the market for a new book, check out these perfect romance novels to read in fall 2018.
If the romance genre conjures images of bodice-ripping and unrequited pining, you might think — meh. And I'd be right there with you! That's why the books on this list have a healthy dose of humor to help you wash down the sugary sweetness of romance. While 2018 seems to have absolutely flown by, you might've spent a good portion of your available brain space on the news and absorbing current events, and might've missed a few really wonderful books. Whether you're living a real-life romantic novel, or living vicariously through the characters on the page, you're sure to be swept off your feet by these books. So go ahead, put down Twitter, and dive in!