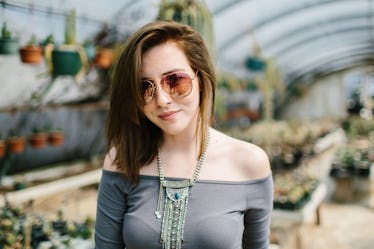 6 Reasons To Try Acupuncture, Because Anxiety Relief Is Only The Beginning
Acupuncture is one of those things people either swear by or are skeptical about. For example, while I personally wouldn't think lying on a table while someone sticks needles into my skin would be all that relaxing, evidently, one of the most common reasons to try acupuncture is stress relief. This is because the prick of an acupuncture needle isn't painful — it's methodical and holistic. Like a masseuse, an acupuncturist knows exactly how to perform depending on your individual needs. And while anxiety is definitely one incentive to give acupuncture a chance, there are a handful of physical and psychological benefits to the treatment, too.
According to Irina Logman L.Ac, MSTOM, CEO and founder of Advanced Holistic Center, acupuncture is believed to have stemmed from Chinese practices dating back to as early as 100 BCE. In an exclusive interview with Elite Daily, Logman clarifies that the needles used in these techniques are not like the cringeworthy instruments you'll find at a doctor's office. On the contrary, these stainless steel needles are single-use and hair thin. Depending on the type of treatment you're looking for, acupuncture can be gentle or intense, and depending on your plan, it's sometimes covered by health insurance.
So what does acupuncture do? Because it stimulates neurotransmitters in the brain, increasing serotonin and epinephrine levels — aka all the feel-good hormones — Logman says this kind of extreme state of relaxation leads to "a reduction in overall stress and anxiety." In other words, it promotes a chill mind and, therefore, a chill body to follow.
Intrigued? I thought you might be. It just goes to show that while anxiety relief might be the hype surrounding acupuncture treatments, the age-old practice boasts more than calm nerves. Here are a few of the most common reasons to try acupuncture.