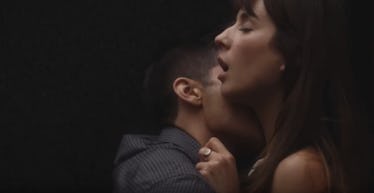 6 'Pretty Little Liars' Sex Scenes That Are So Steamy, You'll Want To Watch Over & Over
For anyone who isn't familiar with the hit teen drama Pretty Little Liars, do yourself a favor and binge-watch it with haste, because the tea is hot. Sex, betrayal, and the most intense high-school drama mystery — what's not to love? At face value, the hottest Pretty Little Liars sex scenes might seem reminiscent of any other teenage drama's, but the underlying tension of the plot paired with the outlandish elements of the storyline come together to create a fan-fictionesque look at high-schoolers who are almost always up to no good.
Let's be real, when it comes to TV shows that fall under the category of "guilty pleasure", few things are as rewarding as on-screen hookup scenes that are both shocking and hot. Where Pretty Little Liars hit the mark, is that it was able to make us 'ship characters so badly, that it was incredibly satisfying when they finally did the deed. Toss in the suspenseful, murder-mystery nature of the show, and its bizarre twists and turns, and you've got a hit on your hands. Whether you watched religiously every week when it was on air, or you're tuning in for the first time now, here is a rundown of the best hookup scenes Pretty Little Liars has to offer.