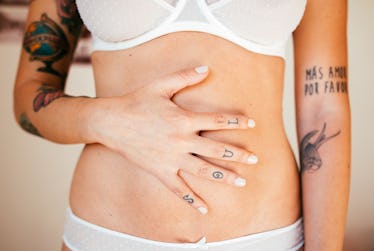 6 Similarities Between Pregnancy & Period Symptoms That Are Just Downright Infuriating
Before I got an IUD, I used to be able to spot my period from a mile away. I dealt with mood swings, cravings, cramps, and more, and each time one of the symptoms happened, I'd know my period was on its way. This isn't exactly a wrong line of thought, except for the fact that, technically, the onset of pregnancy is very similar, symptoms-wise, to your period. In fact, when you're comparing pregnancy vs. period symptoms, you may be surprised to realize you're almost looking at the same exact list.
The idea of actually being pregnant when you just think it's your period, is possibly the scariest plot line any millennial woman can face. And it seems like it's actually a more probable reality than you might have thought, given that most of the symptoms of pregnancy can mask themselves as especially nasty bouts of PMS.
The best way to be sure that your symptoms are period-related is to be meticulous about how and what you're using as a form of contraception. But even contraception isn't 100 percent foolproof all the time, so the best thing you can do is keep a close eye. There's an obvious timeline to this: If you don't get your period, and you continue to have these weird symptoms for weeks on end, it might be time to see a doctor and set the record straight. Here are six pregnancy and period symptoms that are so similar, you might not be able to tell them apart.