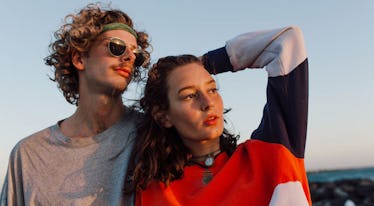 6 People Reveal Who They Cheated On Their Partner With, & There's Totally A Pattern
All of us know that cheating on someone we're in an exclusive relationship with is wrong, and yet, that doesn't stop people from doing it. More often than not, the damage done to a relationship due to infidelity is so intense that it's difficult (but not impossible) to rebuild the trust. If you've ever been cheated on, then you definitely know just how terrible it feels to have your trust betrayed.
When people reveal who they cheated on their partner with, it oftentimes ends up being a pretty shocking revelation. Even if it was "just" a drunken one-night stand with some rando, the pain still cuts deep. But some people end up having the particularly awful experience of finding out that their partner cheated on them with someone in their circle, possibly even a friend.
The one silver lining when it comes to discovering your partner has stepped out on you is that it can be a major wake-up call. Maybe things weren't as solid as you thought they were. Or maybe your "best friend" did what no real friend would ever do and slept with your partner. But once you know, you have the power to cut any and all toxicity out of your life and start anew. According to several cheaters, here are the people who they ended up cheating with.