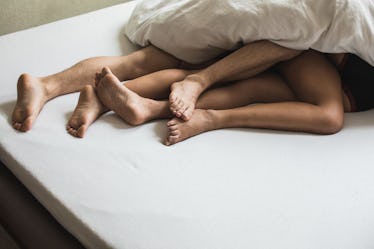 6 People Reveal The Times Bringing A Third Into The Bedroom Went Wrong, & It's Intense
When it comes to sex, everyone has their own personal preferences. Maybe you're a virgin and you want to keep it that way, and that's fine! Maybe you don't want to settle down with just one person, and that's fine, too. Your body means your choice, and however you choose to express your sexuality is fair game. But sometimes, your sexcapades can turn into something that you'd really rather forget, like these stories of when threesomes went wrong, because honestly? That's normal too.
The decision to have a threesome in the first place is tricky enough. Whether or not you're in a relationship, threesomes can be complicated, so it's not exactly shocking if they don't always end well.
Whether you had a threesome that basically turned into a twosome, a lá Dan and Vanessa having a threesome with Hillary Duff's character on Gossip Girl, or there's an injury, or whatever else — failed threesomes are not the worst thing in the world. In fact, most of the time, you'll emerge with a great story to tell.
If you're looking for a laugh, or you just want to feel better about your own threesome gone awry, then read on. Because really, all of these stories have one thing in common and it's this: If you're going to have a threesome, you need to be prepared for what could go wrong.
Here are six people revealing how their threesomes went wrong, so buckle up.