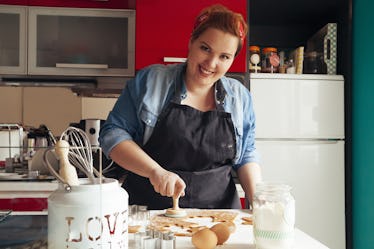 6 No Bake Christmas Cookies For The Lazy Girl Who Feels Like Giving But Not Cooking
Have you ever felt like channeling Betty Crocker, but your energy to actually be the guru baker just doesn't add up? Christmas cookies are a sweet gesture to gift, but just because our heart is in the right place, our jump to action might fall flat at times. No bake Christmas cookies are your way to fulfill that need to give without being in the kitchen for too long.
Hey, it's the thought that counts, isn't it? Cookies are cookies, and if you can take a shortcut, why not? Any lazy girl knows that the idea of baking dozens and dozens of cookies while animals from outside your window sing along and help sounds awesome. But ultimately, Disney doesn't do house visits, and nobody has time for that when you're rushing around doing all kinds of other holiday shenanigans.
The cookies will still have the cute wrapping, adorable card, and our endearing smile as we hand them over to you. Yes, laziness wins, but at least we are still fulfilling the holiday spirit and gifting someone with something they didn't have before. So, if giving out cookies is going to be your act of kindness this year, let these no bake cookie ideas keep you from having to jingle all the way.