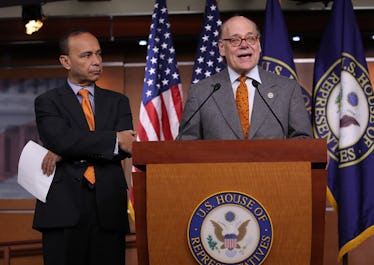 Even More Democrats In Congress Are Calling For Trump Impeachment Hearings & Here's Why
Win McNamee/Getty Images News/Getty Images
A group of Democratic House members is calling for debate over whether or not President Donald Trump should be impeached. The group made their public call on Wednesday, Nov. 15, while introducing what are known as articles of impeachment, or charges against the president. The six Democrats' demand for Trump impeachment hearings was announced by Rep. Steve Cohen of Tennessee.
"We are introducing articles of impeachment to remove President Trump from office," Cohen said during a press conference. "There will be — I believe — six signatories on the resolution. We have taken this action because of great concern for our country, and our constitution, our national security, and our democracy."
Introducing articles of impeachment is the first notable step in the lengthy process by which any president would be impeached. The articles that Rep. Cohen introduced this week included five charges. The charges include obstruction of justice — particularly in relation to Trump's decision to fire former FBI Director James Comey while Comey was heading an investigation into potential ties between Trump's presidential campaign and Russian efforts to influence the 2016 election — and undermining the freedom of the press.
The Democratic lawmaker further explained the charges, saying,
I believe there is evidence that he attempted to obstruct an investigation into Russia's interference with the U.S. presidential election and links between between Russia and the Trump campaign, most notably the firing of FBI Director James Comey. The president's blatant refusal to separate himself from his businesses has led to clear instances of conflict of interest that appear to violate both the domestic and foreign emoluments clauses. And his attacks on 'so-called' judges and 'fake news' have undermined public confidence in the judiciary and the press.
A clip of the Cohen's press conference can be seen in the video below:
At the press conference, Cohen was accompanied by Rep. Luis Gutierrez, a member of the House Judiciary Committee, the panel of Congress members within the House that would hypothetically hold hearings on impeachment.
"Congress has the power of impeachment when behavior by the President puts the nation and our laws at risk and I think we are at that point, despite the ongoing, important investigations," Rep. Gutierrez said. "Congress needs to step in when there is evidence that the President is interfering with the judicial branch, obstructing or disrupting investigations, or if the President is profiting improperly from his office."
During the press conference, Cohen mentioned that he and his Democratic colleagues do not expect their request for hearings to be met, an apparent concession and acknowledgement of the political balance in Congress.
Both the House and the Senate are majority Republican until at least 2019. To have hearings on the impeachment of President Trump would require Republicans endorsing the call for debate. But even Democratic leaders won't back calls for hearings on Trump's impeachment.
"There are a large number of Democrats who believe this president ought to be impeached," House Minority Whip Steny Hoyer (D-MD) told reporters on Wednesday. "We have just made the judgment that the facts aren't there to pursue that. And what we want to pursue, we don't want to distract [from] what is our focus."
Cohen also said that House Minority Leader Nancy Pelosi (D-CA) did not endorse the call for impeachment either, but understood the desire for the hearings, according to Politico.
In other words, there are not nearly the amount of people required in Congress to make impeachment a possibility.
Others members of Congress who supported Cohen's resolution include Rep. Gutierrez, Rep. Marcia Fudge (OH), Rep. Adriano Espaillat (NY), Rep. Al Green (TX), who has also made calls for impeachment in the past year.