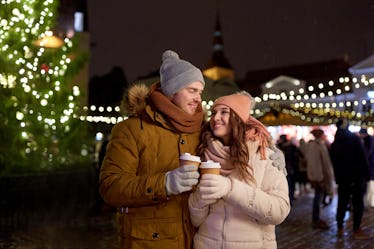 These Holiday Dates In Kennebunkport Include A Cookie Crawl, Wine, & Pups
Shutterstock
Have you ever watched a holiday rom-com and wondered if a festive town that hosted a bunch of unique holiday events like that actually exists? Well, Kennebunkport, Maine is that dreamy destination, and it can be the backdrop to your very own romantic holiday movie with your significant other if you're looking for a getaway. When you're planning your trip, consider these holiday date ideas in Kennebunkport in December 2019.
Kennebunkport is a charming coastal town that's great all year-round, but it's especially dreamy around the holidays. For the 38th year, Kennebunkport has put together their Christmas Prelude celebration that takes place from Dec. 5 to Dec. 15, 2019. If you live in the New England area, it's easy to take a train ride to Kennebunkport for a romantic getaway with your partner. All you need is the right itinerary — and they have you covered with the most festive one of your dreams.
Don't forget to snap some adorable selfies for the 'Gram while you are checking out the holiday decor, enjoying the Christmas tree lighting, or going on a delicious cookie crawl with your love. After all, this town is a perfect destination to start a new holiday tradition together.